IMPORTANT NOTICE! The website is being overhauled. Please use
this link
to access the old site.
Latest news / site updates
(June 2014) ELLIS - new CD re-issues!
Cherry Red Records released the two Ellis albums "Riding On The Crest Of A Slump" and "Why Not?" on 30 June 2014 (on their Esoteric Recordings label). Both CDs have been remastered from the original Epic master tapes and features booklets that restores the original album artwork and includes a new essay. More info


(May 2014) Ronnie Lane Memorial Concert - new DVD!
Angel Air will release a 3.5 hour DVD of the 2004 Ronnie Lane Memorial Concert in London. Steve Ellis was one of many performers that night, sharing the stage with Paul Weller, Ronnie Wood and Pete Townshend among others. Release date is 04 August 2014. More info


(May 2013) LOVE AFFAIR biography updates!
Added interviews with Ray Auld, Bob Broad and Dave Wendels and updated the biography section for the period 1967 - 1975. Added details about Rex Brayley's pre-Love Affair band The Dae-b-Four. More info


(April 2013) ELLIS - "El Doomo" picture sleeve single from Turkey!
Epic Turkey coupled "El Doomo" with "Wish I Was Back Home" for a 1974 single, housed in a nice picture sleeve. More info


(Dec 2012) KIN - another "El Doomo" picture sleeve discovered!
Back in 2007, a German promo single for Steve Ellis' band KIN was discovered. The single was housed in a CBS 'Blitz' promo sleeve with a short bio about KIN printed on the back. A regular picture sleeve edition was also prepared but the release was cancelled when the band changed their name to Ellis. Not all copies were destroyed however, because a few copies have recently turned up on eBay! More info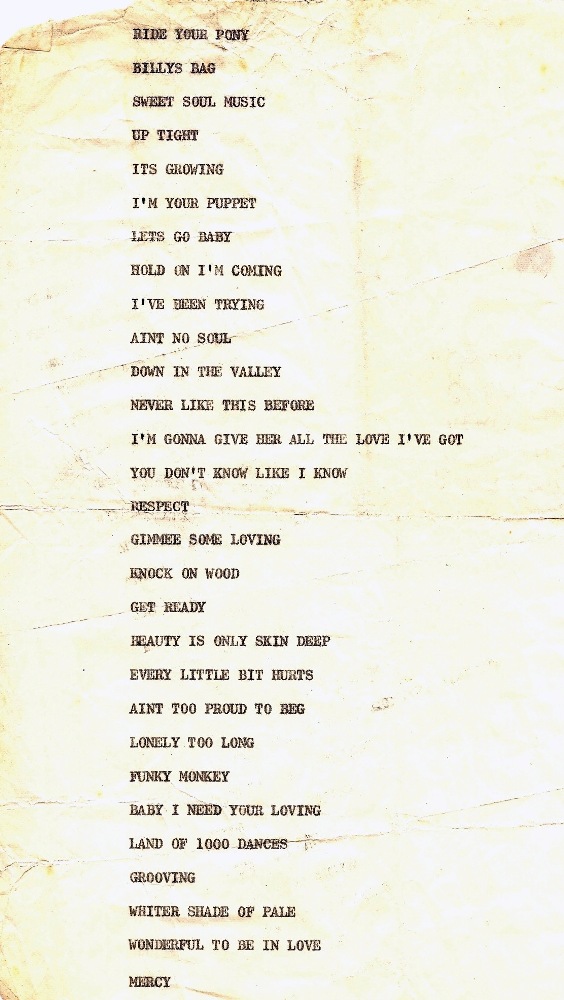 (May 2010) GUS YEADON R.I.P. (1948-2010)
Former Love Affair vocalist August "Gus" Eadon (aka Ted/Gus Yeadon) passed away in The Queen Elizabeth Hospital, Edgbaston on 07 April 2010, aged 62, having been ill for some time. He will be sadly missed.

(March 2010) LOVE AFFAIR 1967 set list discovered!
Maurice Bacon recently came across a list of songs that Love Affair performed live in 1967, pictured left. It shows that the Love Affair really were a diehard soul band before "Everlasting Love" came along and gave them the #1 hit and changed everything! Click on the image to bring up the complete list of 29 songs!

(March 2010) LYNTON GUEST discography updated!
Lynton and Jimmie Edwards were busy in 1973/74, working as in-house producers for Dawn Records. The two singles they recorded with D'Jurann Jurrann ("Streakin") and Baz ("Portrait") have now been added to the Lynton Guest discography. D'Jurann Jurrann was a pseudonym for Paul King of Mungo Jerry fame. Guest and Edwards also produced his 1973 single "Look At Me Know" which was credited to P. Rufus King. More info

(March 2010) GUS EADON - the early years!
When Gus Eadon left the Elastic Band to replace Steve Ellis in the Love Affair in 1970, the Elastic Band had just finished recording their debut album. Andy Scott (of Sweet fame) was the guitar player with Elastic Band. Read Andy's recollections of the period at www.andyscott.info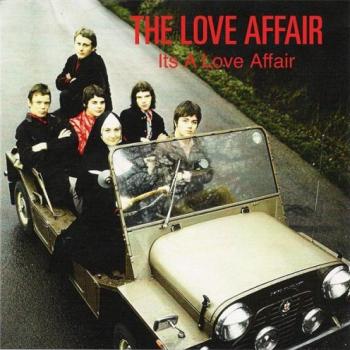 (March 2010) LOVE AFFAIR - "It's A Love Affair" - mp3 only album!
Strike Back Records have issued a new Love Affair compilation album which is available as a digital download from all the usual outlets. "It's A Love Affair" contains 7 tracks first released on Angel Air's "No Strings" CD in 2000: Back In Your Life Again | Woman Woman | Sweetness And Tenderness | Do You Dream | She Smiled Sweetly | Satisfaction Guaranteed | It's A Love Affair

UPDATE June 2012: only iTunes seems to be offering "It's A Love Affair" at the moment, alongside digital downloads of the albums "Superhits", "The Best of the Good Times" and "The Everlasting Love Affair".