NEWS ARCHIVE: 2009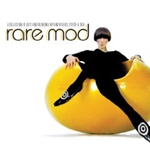 (May 2009) VARIOUS ARTISTS - "Rare Mod" CD!
A new compilation CD called "Rare Mod" (Acid Jazz AJXCD211), subtitled "a collection of 60's underground, rhythm'n'blues, psych & soul" - includes "Back In Your Life Again" and "Satisfaction Guaranteed" by the Love Affair, plus tracks by The Attack, Steve Mariott and Steve Howe among others.

STEVE ELLIS update!
Steve has been guesting with New Amen Corner for some time but is also making plans to go out as Steve Ellis' Love Affair, and to return to the studio to commence work on a new album.

Furthermore, Steve is currently doing a documentary with Ed Houghton of Bird Feeder Films on his life in the industry so far. They have been busy filming & interviewing many people. Says Steve: "I think it will be good as Ed is totally into it & is really excellent to work with". There is a short work-in-progress clip available on YouTube labelled Steve Ellis: A Life In Music.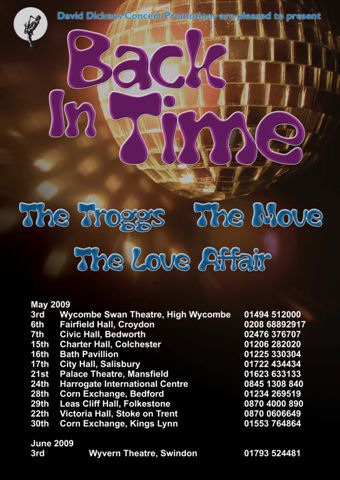 (March 2009) LOVE AFFAIR - new UK tour!

The Love Affair will tour the UK in May/June with The Troggs and The Move.

Rob Moore is the new Love Affair vocalist, having replaced Johnny Warman:

6 May 2009 - Fairfield Halls Croydon
7 May 2009 - Civic Hall Bedworth
15 May 2009 - Charter Hall Colchester
16 May 2009 - Pavillion Hall Bath
17 May 2009 - City Hall Salisbury
21 May 2009 - Palace Theatre Mansfield
22 May 2009 - Victoria Hall Stoke On Trent
24 May 2009 - International Center Harrogate
28 May 2009 - Corn Exchange Bedford
30 May 2009 - Corn Exchange kings Lynn
3 Jun 2009 - Wyvern Theatre Swindon

Always be sure to check the band's MySpace page for any updates/corrections prior to making travel plans!

OTHER MAURICE BACON NEWS:
Maurice is now also managing the band Kula Shaker, fronted by Crispian Mills. The band broke up in 1999, but have since reformed and are now busy working on a new album. Web links: www.kulashaker.co.uk or www.myspace.com/kshaker

Meanwhile, Danny Bacon's band Zoe Appleseed have a new single out next week called "Shoot To Kill". According to their website, this 5 piece band formed in early 2008 "crossing genre barriers to bring a unique blend of sounds to the scene. Mixing hip-hop with rock and reggae with punk and a live vibe that has to be seen to be believed". See for yourself at www.myspace.com/zoeappleseed