The Soul Survivors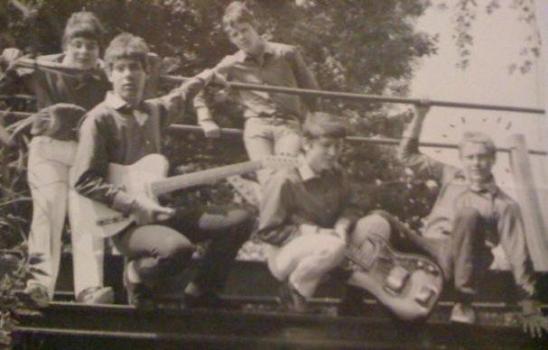 (February 1966 - August 1966)

from left:
Maurice Bacon - drums
Ian Miller - guitar
Morgan Fisher - keyboards
Warwick Rose - bass
Steve Ellis - vocals

The Love Affair started out as the Soul Survivors in early 1966, featuring Steve Ellis (vocals), Maurice 'Mo' Bacon (drums), Stephen Morgan Fisher (keyboards), Ian Miller (guitar), and Warwick Rose (bass).

They were managed by Maurice's father, Sidney Bacon. Sid was a drummer, too, and his brother Max was a famous jazz drummer from the 30s and 40s - so when Maurice started playing drums, Sid formed a band for his son by placing adverts in Melody Maker, and held auditions in his Walthamstow warehouse. Maurice Bacon: "I come from a family of drummers. Uncle Max was a famous drummer in the Ambrose Orchestra in the 30s. My father was a semi-pro drummer, and a cousin, Victor Feldman, was a famous session player. He played on Steely Dan's records. So after I started playing drums, my father formed a band for me by placing adverts in the paper."

The Bacons were from Southgate; the rest of the band were recruited from nearby Finchley, where Maurice's father Sidney was the proprietor of a successful handbag factory. Steve Ellis: "There was an ad in the Melody Maker for a singer for a young band. As a dare, I went for this audition. And that was the Soul Survivors: Maurice, myself, Morgan Fisher on keyboards - I knew Morgan already, we used to spend evenings together listening to soul music - Ian Miller on guitar and Warwick Rose on bass. This is early 1966. The first number I ever learnt to sing with the band was 'Keep On Running'." Prior to joining, Morgan Fisher played with two high school bands, The Private Eyes and The Beat Circuit. The vocalist with both was Chris Ross - who went on to sing for the Glyndebourne Opera Company.

Bacon: "My father was fairly wealthy. He invested a lot in the band, bought all the equipment and had a warehouse in Walthamstow in which we'd rehearse. And we had vans to go to gigs in." Fisher: "The Soul Survivors were a good soul band. We were really hip and into the Stax label, and jazz - Jimmy Smith and stuff, and that's the kind of music we played, really. We had all these obscure records - the Sue label was another fantastic one, Billy Preston and stuff like that and we used to do really good soul music". Soul music was very popular in England in 1966/67, and the Soul Survivors were in at the beginning, even getting a residency at the Marquee Club in London.

In the summer of 1966 the Love Affair saw the first of many personnel changes: Georgie Michael and Michael 'Mick' Jackson replaced Ian Miller and Warwick Rose, respectively. Warwick now sells medical insurance in Los Angeles. Michael Jackson had moved down to London looking for a gig - and successfully auditioned for the band. Michael Jackson: "I met Ollie Halsall and Mike Patto (of Timebox-fame) at Butlin's Summer Camp in Filey. They invited me to stay with them in London. I didn't stay long - I spotted an advertisement in the Melody Maker. A London based band were looking for a bassist, so I auditioned and got the job. This was the Love Affair - they were still called the Soul Survivors then."