Mr Big / Broken Home / Dicken
- Biography -
This biography chronicles the career of Jeff Pain (aka Dicken) and his bands Burnt Oak, Mr Big, Broken Home, Peculiar People and Mr Big UK.
---
The original line-up of Mr Big (1972 - 1976) consisted of Dicken [guitar, vocals], Pete Crowther [bass], John Burnip and Vince Chaulk [drums]. In 1976 Eddie Carter joined the band, adding some extra vocals and guitar. John Marter [drums] was recruited early in 1977 to take the place of John Burnip, who became the groups personal assistant. Mickey Llewellyn was brought in on guitar just to tour with the band in England in 1977, bringing the line-up to a six piece for a short time.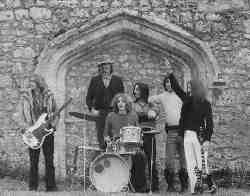 The band were originally called Burnt Oak (pictured right), which Dicken formed in 1969. They decided to change their name to Mr Big inspired by a tabloid newspaper headline, contrary to what has been written about using Mr Big song-title from the rock band Free. Their first gig was at the Marquee Club (London) in the summer of 1972.

The band signed to Epic Records in 1974, and three singles soon followed. Mr Big had been promoted by Epic as a cockney band pearly suits and all, regularly playing on TV. This was largely due to Muriel Young, who liked the band. One of their first spots was a slot on TVs "Softly Softly Task Force" in September 1974.

By now the band were regulars at the Marquee club, and would sometimes do a spot at London's Speakeasy club after playing there. It was at one of these gigs that the band were spotted by Stan Tippins, tour manager for Mott The Hoople. He introduced the band to their manager Bob Hirschman who signed them up.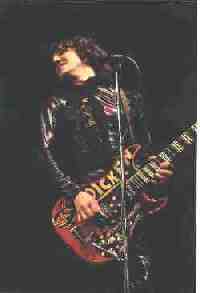 Bob Hirshman quickly set about changing the image of the band, and not long after that they left CBS and were signed by EMI Records. Their first album produced by John Punter in 1975 "Sweet Silence" was acclaimed by the press at the time as being . . ."one of the best albums from a new band that year". . (Ray Fox Cummings-Record Mirror). In November 1975 a support on Queen's 'A Night At The Opera' tour was secured.

In 1976 the band added Eddy Carter to their line up and after short tour in Europe supporting Sweet, they enjoyed their own nation-wide tour. Now they began preparing for their second album. It was at this time that "Romeo" was written. Val Garay was brought in to produce the album, that had been recorded after so much hassle in Los Angeles. Unfortunately a conflict of interest was beginning to emerge. The band had been signed by Clive Davis to Arista, and separate record companies were wanting different things, causing conflicts for the band.

Early in 1977 "Romeo" was released, and was almost immediately a hit, despite being banned for a short time by Radio 1. It reached no.4 in the UK. The follow-up "Feel Like Calling Home" reached no.35, although at the time the band were touring the States.... just when they should have been in the UK for EMI to promote the single. Dicken later suggested that this had sparked the beginning of the troubles for Mr Big. Even so, the band headlined their own tour in the UK later in 1977. After a fiasco in LA in which Val Garay was dropped they recorded one more album produced by Ian Hunter called "Seppuku" (which remains unreleased to this day!).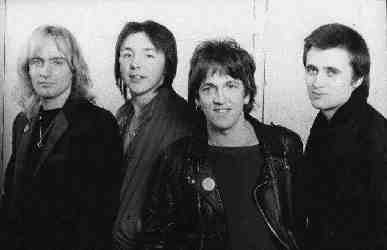 The band felt overshadowed by the emergence of Punk and New Wave, and didn't have any real desire to continue. In 1978 the band split up. Dicken and Pete Crowther, who had played together since 1969, quickly formed another band called Broken Home, adding Pete Barnacle [drums] and Rory Wilson [guitar]. They were managed by Tony Smith, the manager of Genesis. The band made two albums, one released by WEA in 1980 called "Broken Home" (produced by Robert John 'Mutt' Lange) and the other called "Life" released by Mercury / Phonogram Records in 1981. The "Life" album was produced by Chris Walsh and was only released in parts of Europe (not in the UK) . The band toured for a while, and the last gig they did as Broken Home was at the Reading festival in 1980.

After the break up of Broken Home in 1981 Dicken continued working with Robert John "Mutt" Lange, recording demo tapes at Zomba studios in London and at his Oxford cottage. In the late spring of 1982 Dicken became a Christian. For him it was just like the prodigal son returning home. "Mutt" Lange was very busy with other bands and couldn't devote much of his time to work with Dicken. However, by now Dicken had formed a new band - called "Peculiar People" (pictured below) with Paul Gibbons and Clive Bunker (formerly the drummer with Jethro Tull) and a number of other musicians. After a stint in the Solid State Logic studios they split up.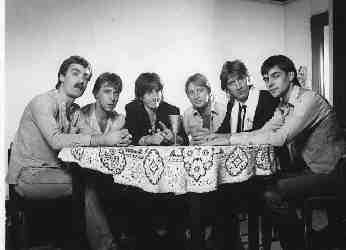 During these sessions Dicken met up again with Colin Saunders - the founder of Solid State Logic (the last time they had met was when Colin recorded his and Dicken's very first demo at his mothers house on a 4 track in the sixties). It was during this time that he met Chris Baylis. They became good friends.

Later in1984/85 Chris joined Dicken and Paul Gibbons in what could be called the second version of Peculiar People, playing mainly at colleges in and around the Southeast, and recording at Chris's studio.

In 1983 "Oh Yeah" from the Life album was remixed and released in parts of Europe. At that time Tony Smith (Phil Collins Manager) introduced Dicken to John Glover who decided to manage him. Also in the late spring of 1983 Dicken teamed up with the band Tandori Cassette, with Barrymore Barlow (ex-Jethro Tull band), Zal Cleminson (ex-Alex Harvey band), and the late Charlie Tomahi of Be Bop Deluxe. They did not play any live gigs but spent most of their time rehearsing and recording demos at Barrymore Barlows studio. At some point Paul Gibbons joined this band as well.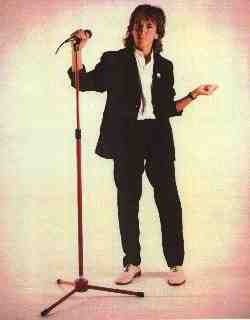 Meanwhile "Zomba" were interested in signing Dicken for a publishing deal, mainly because of the song "Its All Over" which had previously been recorded at their studios in London. John Glover began negotiating with Zomba on Dickens behalf. There were too many people involved in his decision making. Back in Oxford the day-to-day running of his affairs was run by a lifelong friend Fred Brennan who wanted to share the management with Messrs Glover. Problems arose almost immediately.

A German company wanted the song and were willing to pay a lot more than Zomba for just the one song. They also promised TV shows etc. Dicken was confused by all this, and as it turned out made the biggest mistake of his career. Instead of doing what he now would say was the only honourable option and sign to Zomba, who after all indirectly paid for the demo in the first place, he was advised to sign to the German company Budde, which he did. He now lives to regret that decision and that was his last contact with his old friend "Mutt" Lange...

A UK solo single, "Solid Gold", was released in 1986. A year later Dicken formed a band with a drummer called Steve Clark and an Irish bass player, recording a number of songs which would not see the light of day for a few years to come.

Around 1990, Dicken formed Mr Big UK (renamed because of the American Mr Big) with Ian Campbell [drums], Mike Higgins [bass] and Chris Hutchinson [vocals and keyboards]. Since 1994, the Mr Big UK line-up has consisted of Dicken [vocals / guitars], Simon Saunders [drums] and Mike Higgins [bass].

A CD called "Rainbow Bridge" was released in 1996. Although credited to Mr Big UK, the album was really a Dicken solo album - put together from all the recordings he had done in 1983 - 1990.

In 1998, Mr Big dropped the UK prefix. Dicken: "We registered the name Mr Big in 1973, but that doesn't mean much I'm told. I went to see a lawyer when I first heard about the US band, and we got in touch with their management - but I don't think it bothered them that much though, we were small fry compared to them so what could I do." Around this time Mike Higgins left the band "to do other things", including moving house and he was briefly replaced by Tony Turner who brought with him a keyboard player, Chris Holmes - who played in the 70's band 'Babe Ruth'. This turned out to be a short lived line-up however, as the band broke up by the end of the year.

Throughout 1999, Dicken demoed new material with friends in Oxford, and formed a new band called the Rustic Cowboys. A new CD is expected in the year 2000.
---
this page is part of the Oxford Rocks website - click here for more info